FintekNews is pleased to welcome itBit to our contributors roster. itBit will be providing us several pieces of original content each month, including a weekly bitcoin price outlook, which we feel our readers will be very interested to see.
This article originally appeared on the itBit Trading Blog:
June 20, 2016 at 3:30 PM | Elizabeth Hamilton, itBit Director of Trading

Bitcoin continued its incredible run last week, surging another roughly 10% to close around $740. The price has now jumped over 65% since late-May.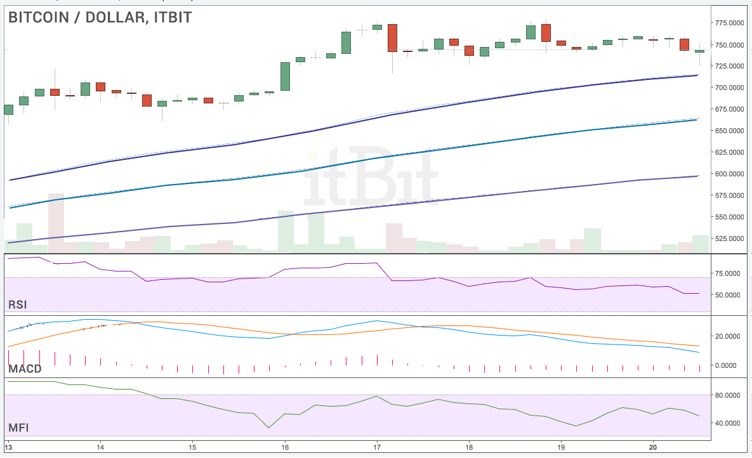 Bitcoin Price Outlook for Week of June 20th
After the massive price move over the last month, some key indicators have started to weaken. The MACD had a short-term bearish crossover and the RSI unwinded some big momentum over the last week. However, both remain bullish overall.
Significant resistance can be found at $775 as a double top has formed at that price point. Breaking above that key level would pave a clear path to $800. Two key support levels to watch on the downside are $730 and $715 with the latter being particularly important. If the $715 support level is broken, the price could fall to the $680-$690 range.
———————–
Elizabeth Hamilton is the Director of Trading at itBit. She manages itBit's OTC agency trading desk, working closely with OTC traders through settlement. Elizabeth has been trading and performing market analysis in the bitcoin space since 2013. Prior to joining itBit, she worked at Noble Markets helping to design and build the firm's proprietary crypto-asset marketplace. She also performed primary research on bitcoin and emerging digital currency markets while at ARK Investment Management. Elizabeth holds a bachelor's degree in Physics from Swarthmore College.