We like to let our readers know when interesting new fintech products hit the market and Chicago-based Rivernorth's new RMPLX stock fits that bill.  Acccording to their website, the RMPLX is a "closed-end fund dedicated to seeking a high level of current income within the marketplace lending ("online lending") asset class.  Recently an analyst took a deep dive into the new issue, and we thought ourreaders may be interested to learn how they can participate in marketplace lending through an established financial institution, rather than trying their own luck on the open market.  Study up, folks!
(Cindy Taylor/Publisher)
---
Summary
"Overview of RiverNorth Marketplace Lending Corp's new preferred stock – RMPL-.
Brief review of the company.
Comparison with the sector.
Special clauses in the prospectus.
Introduction
This article offers a brief analysis of RiverNorth Marketplace Lending Corp's (NASDAQ: RMPLX) newly issued preferred stock.
Our goal is purely to inform you about the product while refraining ourselves from an investment recommendation. Even though the product may not be of interest to us and our financial objectives, it definitely is worth taking a look at.
The New Issue
Before we submerge into our brief analysis, here is a link to the 497 Filing by RiverNorth Marketplace Lending Corp – the prospectus.
Source: SEC.gov
For a total of 1.44M shares issued, the total gross proceeds to the company are $36M. You can find some relevant information about the new preferred stock in the table below:
RiverNorth Marketplace Lending Corp 5.875% Series A Term Preferred Stock due 2024 (NYSE: RMPL-) pays a fixed dividend at a rate of 5.875%. The new issue has no S&P rating, will be callable as of 10/31/2020 and is set to mature on 10/31/2024. Currently, the new issue trades at a price of $25.14. This translates into Yield-to-Call of 5.67% and Yield-to-Maturity of 5.78%.
Yield-to-Call over time can be observed on the chart below: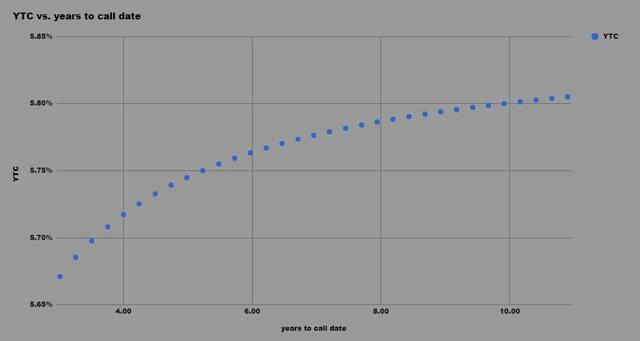 Source: Author's spreadsheet …"
Full Story at SeekingAlpha